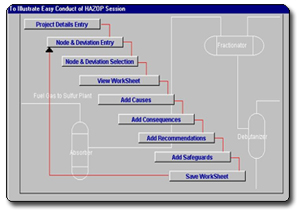 The use of the HAZOP technique to identify hazards in industrial operations are now becoming a standard practice in the industrial world.
The technique involves combining human experiences with various inputs from instrumentation and control, mechanical, maintenance and process aspects, etc., to produce results in the form of work sheets.
We conduct HAZOP studies in the most optimum time and cost effective manner using computerized software techniques.
Specific expertise is available for conducting HAZOP studies for batch processes
Benefits Expected:
Better understanding of the process & control systems
Develops skills of hazards spotting & troubleshooting
Enable immediate introduction of risk reduction measures
Improves plant efficiency
Contributes to better communication & co-operation
Helps focus on the potentially hazardous situations that may require further analysis techniques